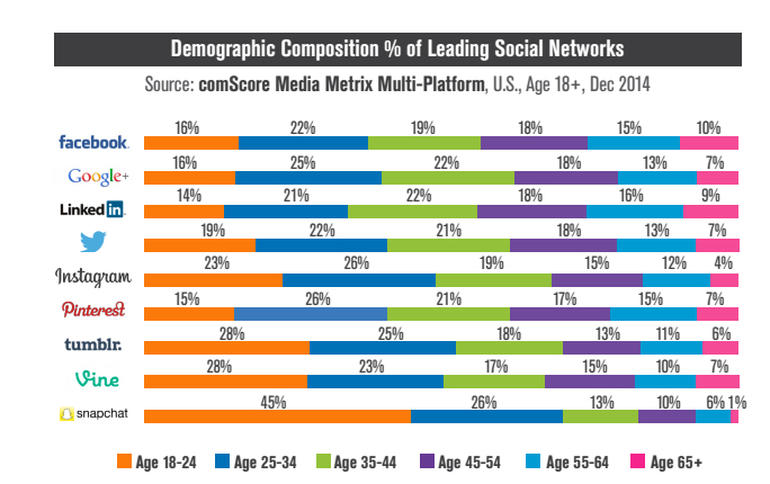 Here's the answer in one chart.
Globally, it's estimated that the Snapchat mobile app reaches 100m active users.
New demographic data reveals Snapchat's enormous advantage over rival social networks in attracting the Millennial generation which advertisers most want to reach.
A recent comScore study found that a massive 71% of Snapchat's US users are 18-34 year-olds and 45% are 18-24s. (This analysis actually underestimates Snapchat's skew towards youth, as it does not include teens under age 18 who use the app.)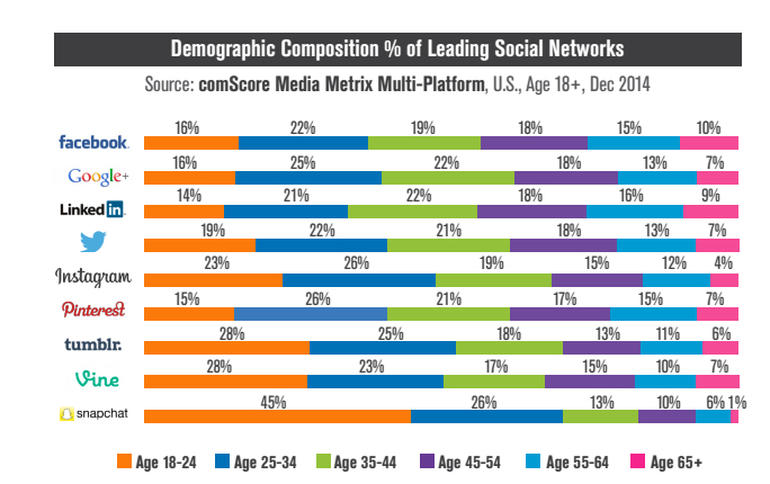 (comScore December 2014)
The Millennial generation embracing Snapchat is also watching much less television.
Nielsen rocked the US TV industry when it revealed a dramatic 10.6% drop in viewing by 18 to 34s in only the few months from September 2014 to January 2015.
NBCUniversal's Head of Audience Research Alan Wurtzel said, "The change in behaviour is stunning. The use of streaming and smartphones just year-on-year is double-digit increases."
As the Millennials rapidly shift their attention from TV to mobile, broadcasters have a powerful incentive to partner with Snapchat. The app's Discover feature enables TV networks to distribute video on a daily schedule, just like broadcast television.
The pitch to advertisers is that they can run their own video and multimedia ads, similar to TV commercials, within the broadcast schedule.
Some networks already report considerable success on Discover. ESPN sells advertising on its Snapchat channel for more than $100,000 per day.
For TV, digital and advertising professionals
Futurescape's comprehensive The Snapchat Report provides key analysis and essential data for creating winning strategies and innovative content in mobile TV.
TV for the mobile-first generation
The first critical and independent appraisal of how international television broadcasters are innovating original TV content and formats on mobile, partnering with Snapchat.
The Snapchat Report covers:
Developing new creative and commercial opportunities
TV content and business strategies for mobile
Competitive advantage from leading innovation
Original shows and formats on Snapchat
Access in-depth analysis, broadcasters' strategies, Snapchat TV shows and new formats, advertising opportunities and key data: 133 pages, 29 tables and charts.