Guest article by Džiugas Paršonis, Project Manager at Lithuanian national broadcaster LRT on their Millennium Kids quiz show app.
He discusses whether mobiles are really the second screen and explains how that applies to audience interactivity for Millennium Kids.
The idea of the so-called second screen has captured the imagination of many broadcasters.
It seems that by bridging TV broadcasts and software on modern smartphones and tablets we could create an interactive environment in the audience's living rooms. This would potentially provide them with additional information, entertainment, social functions, and most importantly, keep them from switching channels or leaving the screen during advertising spots.
Yet in their enthusiasm to provide second screen apps, TV broadcasters and producers often neglect to delve deeper and understand smart platforms and their users better.
One particular point has been repeatedly emphasised by technology bloggers: smartphones and tablets are not the second screen. They are the first and most important screen for their users. It's not a minor semantic detail. The ultimate success of an application may depend on how well its creators understand the daily use of smart devices.
A cursory glance at the recent proliferation of second screen apps shows that many of them serve as an electronic TV guide, with integrated social functions in the form of Twitter or Facebook messages. Some of them are really well-executed and liked by their users, but their market penetration and ultimate success remains questionable, especially after the novelty factor wears off.
Applying first screen principles to a second screen app is much more challenging, but might be more rewarding for creators and users in the long run. Such a bridge app would use a smart device like a control panel to interact with broadcast programming, in some cases even influencing its content.
Millennium Kids and audience interactivity
One example of such an app, employing mixed first and second screen strategies, was developed by the Lithuanian national broadcaster LRT for one of its quiz shows.
Millennium Kids (in English via Google Translate) is a TV quiz that tests the knowledge of schoolchildren in a competition to answer the most questions correctly in a limited time. It is a very popular programme, especially among families with children.
The app, released for most popular platforms (Android, iOS and Windows Phone), lets children or families play together with TV show participants in real time.
During the show, the same questions are broadcast to smart devices and their users have to obey the same rules as the contestants on television.
While choosing a right answer is very satisfying in itself (especially if an on-screen contestant makes a wrong choice), the feeling of participation and competition is what really involves people and glues them to this particular double-screen attraction.
Players can monitor their performance both individually and within the whole playing community by tracking their ranking in a global roster. The app even has a training mode which engages players between the shows. It lets them take part in a simulated quiz, with an ever-expanding set of questions prepared by the Millennium Kids writers.
The success of the app has exceeded expectations. It's the most popular app in Lithuanian app stores on multiple platforms.
It has had more than 90,000 downloads as of August 2013 and almost 2,000 people choose to compete live whenever the show is broadcast on TV.
Perhaps more importantly, Millennium Kids creates an entirely new experience for "the people we used to call the audience." Rarely is a quiz show able to create an excitement close to the most intense moments of sports broadcasts. It binds the family together, even if only one member is taking the direct challenge.
With Millennium Kids, it's hard to tell which screen is the first and which is the second. Both are integrated in a way that makes them much more than the sum of TV and a mobile device.
And it's not just about entertainment. The data aggregated from thousands of devices is valuable for quiz creators and broadcaster alike. It provides crucial feedback and can answer a variety of questions that would be much harder to answer without the constant influx of live data.
Are questions well chosen? Are they too hard or too easy? Is the flow of the show good enough? How often do we need to make breaks?
Finally, the success of the app and the concept itself gives essential insights into what could be achieved by taking the same approach to other types of programming: talk shows, public debates, sports broadcasts and music shows.
The possibilities are exciting. We might be gradually gamifying the TV viewing experience, but the effect that all this has on people is rather profound. The TV set now is an entirely new, more involving and exciting device.
The Millennium Kids app
Login screen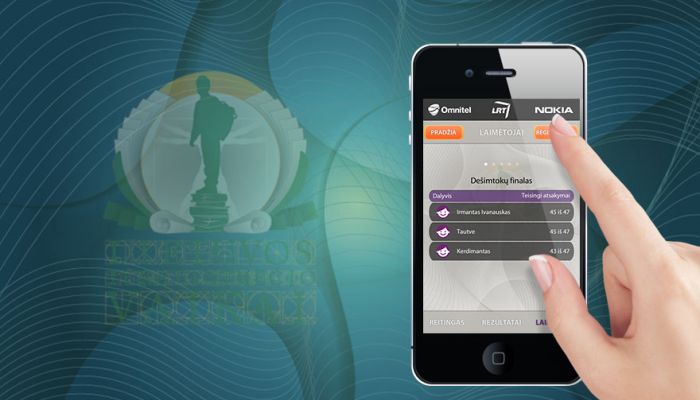 Competition screen