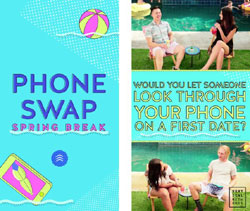 Phone Swap, a dating format from Elisabeth Murdoch's Vertical Networks, is the first Snapchat show to air on broadcast TV, following a deal with Fox Television.
Vertical's mission is "reimagining storytelling for mobile." It describes its productions as premium, mobile-first original formats that are made to inspire, while taking viewers outside their comfort zones, and meant to be shared.
The deal follows a successful debut for the series on Snapchat's Discover section, which hosts content from major media partners. In its first season, Phone Swap attracted an average of 10m viewers per episode. The show is now in its second season on Snapchat, with episodes broadcast twice a week.
Snapchat's new storytelling and advertising formats: get the facts with our in-depth report
Appropriately for the mobile-focused Snapchat, the reality dating format centres on smartphones. The participants are given access to each other's phones to let them understand the other person before deciding if they want to go on a date with them.
Vertical's production process for its Snapchat shows includes tracking numerous datapoints, such as pacing and camera angles, to help refine and improve the content.
The show's success in attracting a Snapchat audience, backed by the data-led approach, enabled Fox to avoid having to commission and evaluate a pilot show for television. Instead, it directly commissioned 15 half-hour episodes for TV broadcast this summer. If it proves popular with viewers, the series may be picked up for broader distribution.
For TV, digital and advertising professionals
Futurescape's comprehensive The Snapchat Report provides key analysis and essential data for creating winning strategies and innovative content in mobile TV.
TV for the mobile-first generation
The first critical and independent appraisal of how international television broadcasters are innovating original TV content and formats on mobile, partnering with Snapchat.
The Snapchat Report covers:
Developing new creative and commercial opportunities
TV content and business strategies for mobile
Competitive advantage from leading innovation
Original shows and formats on Snapchat
Access in-depth analysis, broadcasters' strategies, Snapchat TV shows and new formats, advertising opportunities and key data: 133 pages, 29 tables and charts.